Lovely fruit bowl dish spoon three-piece suit
Product origin:
Guangdong, China
Delivery time:
undetermined
Lovely fruit bowl dish spoon three-piece suit
Lovely fruit ceramic tableware set, single watermelon bowl, creative soup bowl, noodle bowl and plate combination, fruit temptation, take it from nature for life, let children love to eat, creative home bowl.
The lovely three piece set of fruit bowl, dish and spoon, with in glaze color technology, is exquisitely made, with simulated peel design and hand-painted bowl wall, which makes the fruit dish more vivid. The high-quality ceramic material has even and delicate secondary quality and thick hand feeling. There are four kinds of lovely and vivid fruit shapes, and there are fruit relief patterns in the bowl, which makes the bowl look more vivid and lovely, and makes people have a great appetite. Unique technology, surface and internal relief texture design, feel thick, just like touching the real fruit. It can be put into the sterilized cupboard without worrying about hygiene. The fruit plate is easy to clean, not easy to leave stains. Glaze in color technology, bright and beautiful, 250ml capacity, with fruit as a bowl, even the rice is sweet.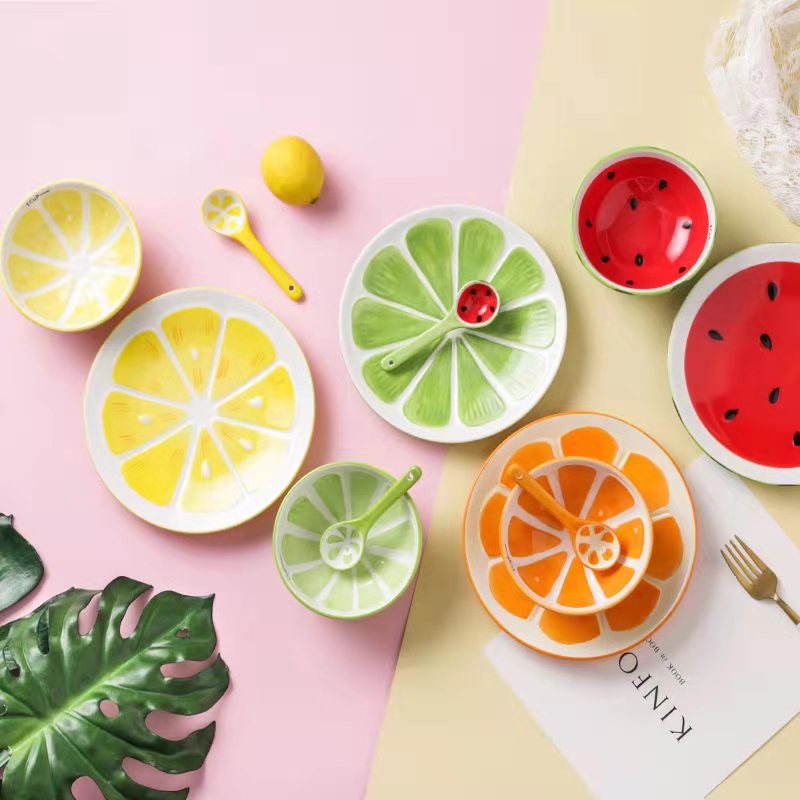 Brand: sanbo ceramics
Material: porcelain
Pattern: Fruit Pattern
Style: Chinese style
Origin: Chaozhou, Guangdong, China
Mouth diameter: 6 inches
Color classification: 5-inch rice bowl, 4 7-inch noodle bowls, 4 8-inch dishes, 4 4-inch flavor dishes, 4 sweet oranges, 5-inch rice bowl, 7-inch noodle bowls, 8-inch dishes, 4 sweet oranges, 4-inch flavor dishes, 4 sweet oranges, 4 sweet oranges, 7-inch noodle bowls, 8-inch dishes, 4 watermelon, 4-inch flavor dishes, 4 green oranges, 5-inch rice bowls, 7-inch noodle bowls, 8-inch dishes, 4 green oranges Lemon 4 "saucer lemon 5" rice bowl lemon 7 "noodle bowl lemon 8" plate lemon 4 "saucer lemon spoon Article No.: Fruit Bowl
Tableware Technology: color in glaze
Packaging: customizable packaging